It's sometimes surprising what things God will use to draw us closer to himself, and to teach us something new. Sometimes God meets us in the pew and sometimes he meets us in the theater seat. Join us in these coming weeks as we explore biblical truths through the lens of popular movies. Stories of grace, failure, redemption, and more—from the pages of scripture to the silver screen, we'll see what God has in store for us in our new series, At the Movies.
Our August Food Drive Is Right Around the Corner
Bless you all for your continued generosity in supporting our partner, FISH Food Pantry and our Backpack Buddies Program. We will continue to host Extending the Table Food Drives to meet their most immediate needs, so check back here for updated lists each month! Thank you again for your love and care for our community.

Our next Extending the Table Food Drive for FISH Food Pantry will happen on Saturday, August 7 and Sunday, August 8 during our regular worship service times. You can bring in your items and drop them in the collection bin in the entryway of the church when you enter for worship. If you are not yet attending worship in person, you can drop off your items 4:30-6:00 PM on Saturday or 8:30-11:30 AM on Sunday.

You can find additional details on what you can donate by clicking the link below:
Save the Date: Meet the New Pastors and Staff
Pastor Steven, Pastor Gina, and Camille, Director of Student Ministries, have been busy this past month meeting small groups, training Congregational Care Shepherds, and meeting with parents and students. Even though they have met a lot of you during in person worship and these gatherings, there are still more of you to meet. To help provide opportunities to meet one another, we have scheduled outdoor events at COS on the dates listed below and online gatherings also on the times listed below.
You can register here to help us with our planning.
In Person Gatherings:
Family Events
August 1 5:00 pm
August 2 7:00 pm
August 8 11:30 am
August 22 5:00 pm

General Church
August 6 7:00 pm
August 22 5:00 pm
Online Gatherings:
August 9 7:00 pm
August 12 7:00 pm








Introducing Worshipalooza 2021!

Wednesday, August 4th,
all students are invited to a night of worship and so much more! There's going to be delicious food, an incredible live band worship experience, fun games, as well as AWESOME PRIZES!
We are going to have a blast connecting with God and other students. This is a night you won't want to miss! And even if it's a been a little while since you were a student yourself,
we're still looking for adult volunteers as well.
If you're interested, you can
email Camille Clark here
.
Doors open at 6:30, worship starts at 7:00.
You can register by clicking the link below. See you there!
As we look toward the 2021-2022 school year, there is one thing we know for sure…God is continuing to work in and through Church of the Shepherd as we care for our neighbors. Our partners at Epworth continue to have critical need for the essential school supplies to start kids off right this fall.

Founded in 1864, Epworth Children & Family Services is a multiservice agency that helps at-risk and in-need children, youth, and families move toward self-sufficiency by focusing on health, housing, education, and employment. Thousands of individuals turn to Epworth each year for foster care case management, residential and intensive treatment, psychological evaluation, in-home family therapy, emergency shelter services, transitional and independent living, homeless youth outreach, drop-in center and clinical services, life skills and vocational training, and a 24-hour crisis help-line.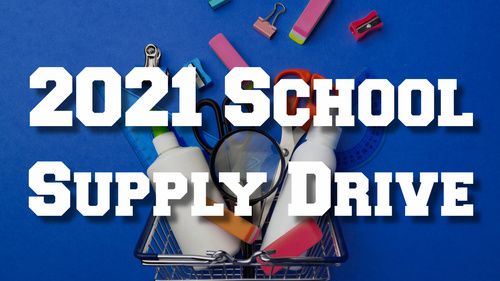 Monetary Donations
If you can't contribute to the drive with school supplies but are able to help with a financial donation to assist in purchasing items necessary, you can do so by donating in a number of ways. Donations can be accepted via our church app or
church website here
(select School Supply Drive from the drop down menu), or by check to Church of the Shepherd (with School Supply Drive noted in the memo).
Explore is an opportunity to really dig deep into the values, the mission, and the path we use to make Disciples here at Church of the Shepherd. We say things like, "we want to be a church where Jesus is revealed, lives and transformed and the church is sent out" and in these courses, we will examine those ideas in more detail.

So if you're looking to dive into questions like, "what does all that really mean for my own life and community?", then we'd encourage you to check out Explore: Church of the Shepherd & Membership. We'll also talk about membership at COS as well as how we can grow together spiritually and relationally.

If you're looking to understand more about who we are as United Methodists and why we do certain things the way we do, then we'd encourage you to check out Explore: Faith, Beliefs, and the United Methodist Church.

Finally, if you're looking to find a community group but not quite sure yet if it's something for you, or if you aren't sure about what groups--come and ask your really great questions with a safe group of people who probably share your same questions too at Explore: Group Life.

The first Explore group will meet on September 1st at 6:30pm. If you're interested you can find out more and also register by clicking the link below:
Every journey begins with the decision to MOVE. Whether you're new to faith, back after a break, or just looking for what's next, MOVE is your best first step!

We want to invite you to join us from 6:30 pm - 7:30pm on every third Sunday as we MOVE together! We will be gathering online on Zoom, and you'll have an opportunity to learn more and connect with Church of the Shepherd to see where we've been, where we're going, and how each of us fit in to play a part where God is leading.

We will also be doing a "Meet and Greet" with the Pastor's at 11:30am the same Sunday as MOVE. Feel free to sign up for both events.

We can't wait to help you join the movement!
Register Now For Upcoming Groups
There's a lot coming up. New groups, Bible studies, activities, and more.
Alpha
Do you have questions about faith? Life? God? Alpha will offer the space and encouragement to explore those and other questions we have in life.

Alpha is an online series of group conversations where we will explore life, spirituality, and faith through a Christian lens. This will be an open environment where anyone who is atheist, skeptic, or just curious about faith can easily explore questions of life with new friends.

There's no obligation to say anything. And there's nothing you can't say. It's an opportunity to hear from others and contribute your own perspective in an honest, friendly and open environment.

No preaching.
No judgment.
No pressure.

Coming September 8th 2021
Disciple
Learning scripture is an important part to growth as a Disciple, and we can have a deeper understanding of God and who we are called to be as Disciples when we spend time studying the Bible. One thing you can expect from this study: you'll learn the meaning of servant leadership. Disciple aims at transformation, not just information

This fall we will be offering Disciple Bible Study: Fast Track designed to be as meaningful and engaging as the Disciple Study, but geared towards people who are busy. What a special chance to deepen your knowledge of God's word with other members of our church family and to build lasting relationships with others.

Books are needed and available to purchase once you join the group.

Coming September 8th 2021
(W)Holy Faith: Emotionally Healthy Spirituality
As Peter Scazzero learned the hard way: "you can't be spiritually mature while remaining emotionally immature." And for many of us, we feel the pressure of obstacles to fully embracing and living out God's grace.

This group will offer you an opportunity to awaken to the freedom that comes with emotional and spiritual maturity, and offers a way to experience life in abundance through an integration of classic practices of contemplative and holistic spirituality with biblical truth and emotionally healthy practices.

This will begin a journey towards life transformation by incorporating weekly spiritual practices that embody this integrated life we are called to and can result in abundant living.

Coming September 8th 2021
BLESS is a four week Training & Equipping Course
Our Goal is to cultivate a Culture of Discipleship through Relational Hospitality designed to be a natural part of who we are as Christ's own Ambassadors being sent out into our world. We take and reflect the love of Jesus wherever we naturally go.
We want to offer you some simple Training & Equipping that we believe will enable each one of us as Disciples to live into the Great Commission with clearer understanding of Jesus' own model of Blessing people, that has practical application for us today. Our Faith & Actions pair up together and speak volumes about who we are, by how we live, and how we treat other people.
With the use of a simple tool, you will create your own faith story, and become prepared to have an answer when and if someone asks you why do you believe in Jesus? What difference does knowing Jesus really make in your life?
If this Training & Equipping sounds like something you would like to be a part of, then Register to join our next Bless Group now!
Every Monday, September 13 – October 4th
There will be two meetings times—either the 1:00pm – 2:00pm Group or the 6:30pm – 7:30pm group, so pick the one that works best for you. Registration will be open soon, so stay tuned for more details!