Bless
From the very beginning—Abraham, Jesus, Disciples, early church to now—we were created to experience God's grace, love and forgiveness and to be a blessing to others. Blessing someone is the fundamental way that we share the gospel with others. Blessing is the result of a transformed life. We'll explore not just how to understand and talk about being a blessing to others, but to really create a lifestyle of blessing.
New Faces
You will probably be seeing some new faces in the coming weeks as Steven Blair joins us as our new Associate Pastor as well as Camille Clark who will be serving as our Interim Youth Director. We're so excited for all of you to meet both of them as they join us in ministry over the next few weeks.
Steven
will be coming with his wife, Holly Snyder, and their two sons, Camden and Finnegan. Steven comes to us with an abundance of pastoral experience. We think that the experience and compassion that he'll bring will truly benefit Church of the Shepherd. Steven will be focusing on our Online Campus. Even with all of our modern technology, it can still sometimes be difficult to connect with others. Steven will be supporting our online campus and making sure that it's a place where people can easily connect with each other and with God.

Steven made a quick video introducing himself back in March. If you missed it then, you can watch it now by clicking here.
We're so excited to have Camille join our student ministries. She brings over a decade of experience working with students and young adults within the church. If you'd like to get to know her a bit better, she'll be joining Pastor Jon this Sunday in the Living Room which airs on Facebook Live at 8:40am, just before our 9am service. If you're a parent of a middle school or high school student, you'll definitely want to tune in as they discuss the future of our student ministries.
Our July Food Drive Is Right Around the Corner
Bless you all for your continued generosity in supporting our partner,
FISH Food Pantry
and our
Backpack Buddies Program
. We will continue to host Extending the Table Food Drives to meet their most immediate needs, so check back here for updated lists each month! Thank you again for your love and care for our community.
Our next Extending the Table Food Drive for FISH Food Pantry will happen on
Saturday, July 3 and Sunday, July 4
during our regular worship service times. You can bring in your items and drop them in the collection bin in the entryway of the church when you enter for worship. If you are not yet attending worship in person, you can drop off your items 4:30-6:00 PM on Saturday or 8:30-11:30 AM on Sunday.
You can find additional details on what you can donate by
clicking here
.
Summer Fun for COS Students
Hey parents & students, we're kicking off our first event of the summer with a group event at Bowlero in St. Peters. We'll meet there on June 30th from 6PM - 8PM. This event is totally free for students! Be sure to sign up quickly as space is limited. The deadline to sign up is this Friday, June 25th.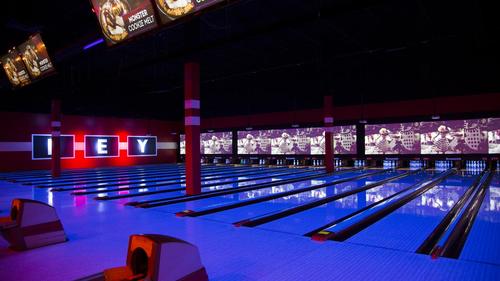 There's going to be a lot happening:
2 hours of bowling in our own designated area
Unlimited soft drinks
A pre-loaded arcade card
1 session of laser tag
Choice of chicken tenders or pizza
There's a lot coming up. New groups, Bible studies, activities, and more.
Here are just a few of things that you can look forward to as we head into the Fall:
Alpha
Do you have questions about faith? Life? God? Alpha will offer the space and encouragement to explore those and other questions we have in life.

Alpha is an online series of group conversations where we will explore life, spirituality, and faith through a Christian lens. This will be an open environment where anyone who is atheist, skeptic, or just curious about faith can easily explore questions of life with new friends.

There's no obligation to say anything. And there's nothing you can't say. It's an opportunity to hear from others and contribute your own perspective in an honest, friendly and open environment.

No preaching.
No judgment.
No pressure.
Disciple
Learning scripture is an important part to growth as a Disciple, and we can have a deeper understanding of God and who we are called to be as Disciples when we spend time studying the Bible. One thing you can expect from this study: you'll learn the meaning of servant leadership. Disciple aims at transformation, not just information

This fall we will be offering Disciple Bible Study: Fast Track designed to be as meaningful and engaging as the Disciple Study, but geared towards people who are busy. What a special chance to deepen your knowledge of God's word with other members of our church family and to build lasting relationships with others.

Books are needed and available to purchase once you join the group.
(W)Holy Faith: Emotionally Healthy Spirituality
As Peter Scazzero learned the hard way: "you can't be spiritually mature while remaining emotionally immature." And for many of us, we feel the pressure of obstacles to fully embracing and living out God's grace.

This group will offer you an opportunity to awaken to the freedom that comes with emotional and spiritual maturity, and offers a way to experience life in abundance through an integration of classic practices of contemplative and holistic spirituality with biblical truth and emotionally healthy practices.

This will begin a journey towards life transformation by incorporating weekly spiritual practices that embody this integrated life we are called to and can result in abundant living.
Definitely a lot to look forward to. If those things sound interesting to you, be sure to stay tuned to
Church of the Shepherd communications for more details over the next few months. We'll have more
information here on our website as well as on social media and on our newsletter.
Director of Children's Ministry
We are currently looking for a new Director of Children's Ministry. So if you know someone or if you yourself have a passion for building relationships, being creative, and introducing children and families to Jesus, then this may be the job for you! We're looking for an out-of-the-box thinker who would love to work with a team to bring the love of Jesus to kids and families.
Click here
for more details.
Wednesdays @ 7 PM on Facebook Live
Join our pastors live on
Facebook
each Wednesday night at 7 pm CST for a midweek gathering to dive deeper into the weekly message, answer questions, and pray together. Find the best ways to engage with Table Talks
here
.
Watch live
here
on Sundays! ** Please note, this is a live event. Clicking the link before 7 pm will display a list of previous videos.
Watch the Latest Episode!
September 23 - Pastor Jon and Pastor Danny are joined by Rev. Kris Sledge from The Journey Harrisburg, a multi-ethnic church plant in Harrisburg, PA.