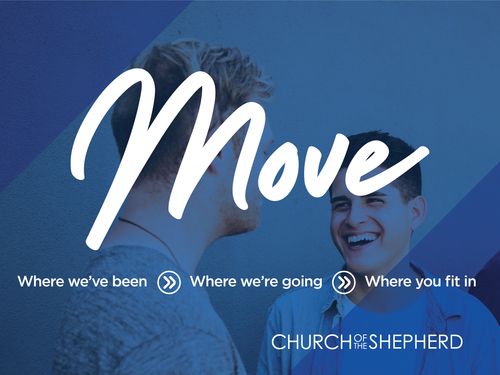 Every journey begins with the decision to move. Whether you're new to faith, back after a break, or just looking for what's next, MOVE is your best first step!

MOVE is an exciting evening where we share delicious desserts and connect with our pastors, staff, and others who are making the decision to move into this new season of faith at Church of the Shepherd. Together we talk about where we've been, where we're going, and how each of us fit in and can play a part in where God is leading us.

We can't wait to help you join the movement! Our next session of MOVE is Monday, April 20, at
6:30 pm!
Are you ready to begin your faith adventure?
Explore is a 4 week experience, beginning January 29, where we'll dive into these big questions:
Week 1: Who is Jesus, and why does he matter?
Week 2: What is the Bible, and how do I use it?
Week 3: What is the church, and why does it exist?
Week 4: Who is Church of The Shepherd, and how do I grow here?
Together as we navigate these 4 questions, our goal is to grow in faith and to connect with one another. Together we'll Explore this exciting adventure of faith together!